Supporting Publications
Cell Host and Microbe The journal's mission is to provide a forum for the exchange of ideas and concepts between scientists studying the microbe with those studying the host immune, cell biological, and molecular response upon colonization or infection by a microbe.
Cell Host & Microbe will publish novel findings related to microbes (which includes bacteria, fungi, parasites, and viruses) from molecular and cellular biology to translational studies with particular emphasis on the interface between the microbe and its host (vertebrate, invertebrate, or plant; unicellular or multicellular). The unifying theme is the integrated study of microbes (pathogenic, non-pathogenic, and commensal) in conjunction and communication with each other, their host, and the cellular environment they inhabit. Work published in Cell Host & Microbe is expected not only to be of exceptional significance within its field, but also of interest to researchers outside the immediate area. In addition to primary research manuscripts, Cell Host & Microbe will publish expert analysis, commentary, and reviews on topics of current interest in the field.

---
Trends in Microbiology provides a multidisciplinary forum for the discussion of all aspects of microbiology: from cell biology and immunology to genetics and evolution, and ranges across virology, bacteriology, protozoology and mycology.
Microbiology is, at present, one of the fastest moving disciplines in Life Sciences, thanks also to technological developments of the recent years. The relative ease and rapidity with which small genomes can be entirely sequenced is beginning to have significant impact on all areas of prokaryote biology, from pathogens to extremophiles, and will fuel new developments, for example, in drugs, vaccines and industrial enzyme research. Recent international developments are also responsible for a renewed interest in microbiology.

---
Cell publishes findings of significance in all areas of experimental biology, including: cell biology, molecular biology, neuroscience, immunology, virology and microbiology, cancer, human genetics, systems biology, signaling, and disease
---
Immunity is a monthly journal which publishes research articles and reviews of general interest in the entire discipline of immunology. Immunity was founded in the belief that advances in molecular and cellular immunology have brought immunology to a point at which a journal of high quality should be able to provide a unifying intellectual view, but the mandate for Immunity is not restricted to any particular level of analysis or to any particular type of system. The title Immunity is meant to indicate a breadth of interest extending beyond the formal definition of immunology, and into all systems that contribute to, or interact with, the immune system of the organism. Submitted articles are reviewed for both technical excellence and general interest, and those that are accepted are published within ten weeks.
---
Trends in Immunology plays an essential role in monitoring advances in the various fields of immunology, bringing together the results in a readable and lucid form. The backbone of each issue is a series of succinct reviews and hypothesis-driven viewpoints. Together with the other sections of the magazine they give the reader a complete picture of the diverse field of immunology.
---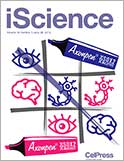 iScience publishes basic and applied research that advances a specific field across life, physical, and earth sciences. It's an open access journal with continuous publication, so research is immediately accessible. Our no-nonsense approach to submissions is simple, fast, and fair, and our commitment to integrity means we publish transparent methods, replication studies, and negative results.