Explore Seville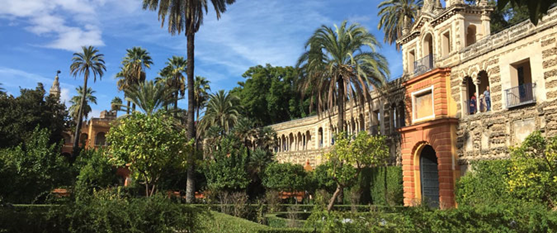 About Seville
Internationally renowned for its famous festivals and as the birthplace of flamenco dancing, Seville is the artistic, historic and cultural capital of the south of Spain and political capital of Andalusia. Seville possesses one of the largest historic quarters in Europe, where visitors can admire three landmarks declared heritage sites: Cathedral, Archive of the Indies (housing the archives of the discovery of America), Royal Alcázar Palace.

Take time during your stay to explore the historical and cultural treasures the city has to offer and to sample the excellent restaurants. You can find out more about what to see and do in Seville on the Seville Tourism website. Below is a taste of what to expect.
UNESCO World Heritage Sites
Together the Cathedral, Alcázar and the Archivo de Indias form a remarkable monumental complex in the heart of Seville. The cathedral and the Alcázar – dating from the Reconquest of 1248 to the 16th century and imbued with Moorish influences – are an exceptional testimony to the civilization of the Almohads as well as that of Christian Andalusia.
Read more on the UNESCO website.
Seville Cathedral

The Cathedral of Saint Mary of the See with its five naves is one of the largest and most impressive churches in the world and the largest Gothic building in Europe. It houses the tomb of Christopher Columbus. Built in the 15th century at the site of a 12th century mosque, inside the cathedral is a spectacular golden altarpiece, the Retablo Mayor.
Read more on the Seville Tourism website.
Royal Alcazar of Seville (Real Alcazar)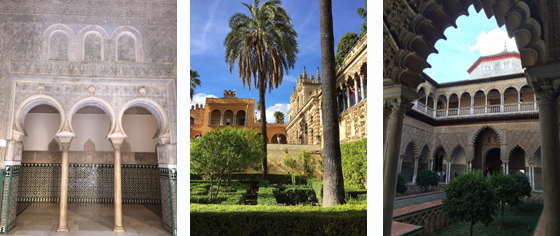 The Royal Palace of Seville is a magnificent complex of patios and halls in different architectural styles, from Mudéjar to Gothic. The heart of the complex is the Palace of King Pedro I, who constructed his royal residence in 1364 at the site of a Moorish palace.
Read more on the Seville Tourism website.
Plaza de España

The Plaza de España is a majestic architectural complex built as the central office for the Ibero-American Exposition, a world fair held in Seville in 1929. It is located in the Maria Luisa Park, just south of Seville's historic centre.
Read more on the Seville Tourism website.
Photo credit: most photos used on this page are with the kind permission of Rumen Duhlev, Elsevier.