Cell-NCI Symposium: Beyond Cancer Genomics Toward Precision Oncology
ONLINE – LIVE & ON DEMAND | OCTOBER 4–6, 2021
ONLINE CONFERENCE TIME ZONE EASTERN TIME (USA) - ET
As the future situation regarding international travel remains uncertain, we have made the decision to switch the Cell-NCI Symposium: Beyond Cancer Genomics Toward Precision Oncology to our fully interactive online conference platform, which will take place October 4–6, 2021.
The online program will include access to the same great content planned for our in-person event with presentations from our invited speakers together with contributed talks and ePosters – all available on-demand for 6 months after the event.  You can stream this interactive conference experience live from your desktop or mobile device and connect during the event with speakers and other attendees.
For more information about our online conferences, please refer to our FAQs.
About the symposia
Enormous volumes of data have been generated by the comprehensive genomic and molecular characterization of several cancer types. While insights gleaned from this data have led to some impressive advances in treating subsets of cancer patients, the full clinical potential has yet to be realized. To help address this challenge, the Cancer Target Discovery and Development (CTD2) initiative aims to build on the fundamental findings generated from genomic initiatives and exploit this knowledge in a clinically relevant context.

The Cell-NCI Symposium: Beyond Cancer Genomics Toward Precision Oncology will showcase recent cancer research using multi-omics approaches to guide functional characterization and assessment of candidate therapeutic targets. The meeting will feature the latest advances in functional genomic approaches, both computational and experimental, and show how deep data analyses and high-throughput approaches are reshaping our understanding of fundamental cancer biology mechanisms and impacting clinical oncology. Our aim is to bring together participants from both within and outside of the CTD2 Network to stimulate exciting discussions, promote cross-pollination of ideas, and accelerate the translation of multi-omic cancer data to precision medicine.
Session themes:
Cancer systems and integrative biology

Drug resistance and mechanism of action

Systems and multi-omics approaches to study cancer heterogeneity

Systems and multi-omics approaches to study cancer immunology

Clinical biomarkers and targeted therapies for precision oncology
Our online platform will allow you to:
Easily navigate the programme and live-stream sessions and presentations

Upload your poster presentation and nestwork and chat with attendees

Engage live with other attendees and speakers through chats, polls, virtual networking meetings and more

Invite attendees to one-on-one meetings using an integrated appointment schedule

Access the event via any device - mobile, tablets or desktop

Access all content of the conference on-demand for 6 months
Speakers

---
Andrea Califano, USA
Christina Curtis, USA
Daniel De Carvalho, Canada

Mathew Garnett

, UK
William Hahn, USA
Trey Ideker, USA
Cigall Kadoch, USA
Michael McManus, USA
Gordon Mills, USA

Dana Pe'er

, USA
Aviv Regev, USA
Eytan Ruppin, USA
Stuart Schreiber, USA
Louis Staudt, USA
Itay Tirosh, Israel

Olga Troyanskaya

, USA
Samra Turajlic, UK
Jeffrey Tyner, USA
Jonathan Weissman, USA
Organizers

---
Andrea Califano, Columbia University Irving Medical Center, USA
Daniela Gerhard, National Institutes of Health, USA
Michael McManus, University of California, San Francisco, USA
Miao-Chih Tsai, Senior Editor, Cell
Montse Rojo de la Vega, Scientific Editor, Cancer Cell
---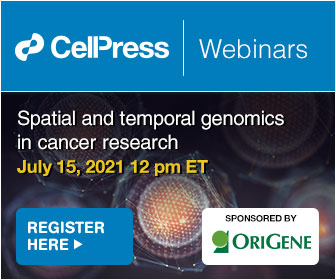 ---