Speaker
Alice Shaw, Massachusetts General Hospital, USA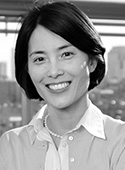 Alice T. Shaw is the Director of the Center for Thoracic Cancers and the Paula O'Keeffe Endowed Chair of Thoracic Oncology at Massachusetts General Hospital. She is also a Professor of Medicine at Harvard Medical School. She received her A.B. in Biochemistry from Harvard and her M.D. and Ph.D. degrees from Harvard Medical School. She did her residency in Internal Medicine at Massachusetts General Hospital and completed a fellowship in Hematology/Oncology at Dana-Farber/Massachusetts General Hospital. She completed her postdoctoral work in the laboratory of Dr. Tyler Jacks at MIT.
In addition to caring for patients with lung cancer, Dr. Shaw also performs clinical and translational research. Her clinical research focuses on a variety of different molecularly-defined subsets of non-small cell lung cancer (NSCLC). Her translational research focuses on elucidating mechanisms of resistance to targeted therapies. Based on her research, she has helped to develop numerous FDA-approved targeted therapies for patients with oncogene-driven NSCLC, and her current efforts focus on developing novel combinatorial strategies aimed at overcoming drug resistance.
Dr. Shaw has been awarded a number of research grants, including grants from the Damon Runyon Cancer Research Foundation, the Burroughs Wellcome Fund, the V Foundation for Cancer Research, Uniting Against Lung Cancer, the National Foundation for Cancer Research, and the NIH/National Cancer Institute. In 2014 she was elected as a member to the American Society of Clinical Investigation. She is a standing member of the FDA Oncologic Drugs Advisory Committee, co-leader of the SU2C Lung Cancer Dream Team, and member of the LUNGevity Foundation Scientific Advisory Board.
« Go Back