Speaker
Antonio Abbate, VCU Health, USA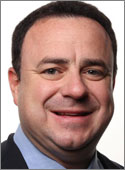 A native of Fondi, Italy, Dr. Abbate completed Medical School at the University Campus Biomedico and post-graduate training in Cardiovascular Medicine at the Catholic University of the Sacred Heart in Rome, Italy. He then moved to the USA and after additional training in he joined the VCU Pauley Heart Center as Assistant Professor of Medicine in 2007 and was promoted to the rank of Full Professor of Medicine with Tenure in July 2020. Dr. Abbate has also served as the Medical Director of Clinical Research Unit in the Wright Center for Clinical and Translational Research. As of July 2022, Dr. Abbate is relocated to University of Virginia as the Ruth C. Heede Professor of Cardiology and Resident Faculty in the Robert M. Berne Cardiovascular Research Center, while maintaining affiliate faculty appointment at the Virginia Commonwealth University.
Dr. Abbate has divided his clinical time between the Coronary Intensive Care Unit, the General Cardiology Practice, Cardio-Immunology and Cardio-Oncology. Dr. Abbate has also led a multidisciplinary team conducting clinical and translational Research, including preclinical investigations. Dr. Abbate's research has been supported by the National Institute of Health, the American Heart Association, or Industry, and has been aimed at identifying novel anti-inflammatory therapies for patients with acute myocardial infarction or heart failure, as well as fighting hyperinflammation in COVID-19 pneumonia. He has authored or co-authored over 450 articles, reviews and editorials that have been published in professionals journals. In addition, he has participated in more than 500 oral and poster presentations to national and international meetings. He is a member of the Editorial Board of many journals, and he is a peer reviewer for over a twenty international journals.
Dr. Abbate is a Fellow of the European Society of Cardiology, the American Heart Association, and the American College of Cardiology and he has been the recipient of numerous awards and honors in both Italy and the United States, including several Young Investigator Awards for cardiology research, induction into AOA Honor Medical Society in 2005, numerous Top Doctors recognitions, and several Excellence in Teaching awards and has been identified among 27 Top Cardiologists in USA by Forbes magazine in 2017.  
« Go Back