Speaker
Matthias Tschöp, Helmholtz Zentrum München, Germany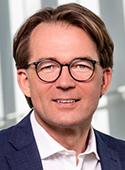 Professor Tschöp has discovered key mechanisms of gut-brain communication enabling the development of several novel classes of drug candidates, called polyagonists, to prevent or reverse diabetes, obesity and metabolic diseases.
Matthias Tschöp completed his undergraduate studies at LMU Munich and received his PhD from the same university. Subsequently, he held postdoctoral positions at Eli Lilly and the German Institute of Human Nutrition in Potsdam. At the University of Cincinnati he led a research institute as a tenured professor of endocrinology and diabetes at the Metabolic Diseases Institute, held the Arthur Russell Morgan Endowed Chair of Medicine and was research director of the Metabolism Center of Excellence for Diabetes and Obesity.
He was the first German physician to be awarded the prestigious Alexander von Humboldt Professorship in 2012 and holds the chair of the Department of Metabolic Diseases at Technical University of Munich. In 2018, Professor Tschöp was appointed CEO and Scientific Director of Helmholtz Zentrum München.
Matthias Tschöp is an elected member of the Academia Europaea, the German National Academy of Sciences Leopoldina, the Bavarian Academy of Sciences, and the European Molecular Biology Organization (EMBO). He was recently elected as a member of the Association of American Physicians. He has received many prestigious awards, including the Endocrine Society Outstanding Innovation Award, the Carus Medal (Leopoldina) and the Ernst Jung Prize for Medicine.
« Go Back