Exhibitor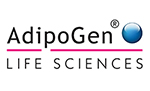 AdipoGen Life Sciences develops, manufactures and distributes internationally new and innovative high quality research reagents for the Life Science Research Market in key research fields, such as of Inflammasomes & Innate Immunity, B & T Cells Immune Regulation, Neuroinflammation, Obesity, and SARS-CoV-2, focusing on Inflammation and Immune Responses Research. Our specialties are cutting-edge areas like inflammasomes, immune-checkpoints, new interleukins, immunometabolism, TNF superfamily, Notch and Hedgehog signalling research.
An experienced management team and dedicated scientists provide strong expertise in manufacturing proteins, validated antibodies, high quality ELISA Kits, and new and innovative small molecules and rare antibiotics. R&D is focusing on developing a TR-FRET product line, to establish "animal free" production procedures for monoclonal antibodies and proteins, development of functional recombinant monoclonal antibodies (using our phage display technology), and production of proteins with enhanced activity and stability, being important for immuno-oncology and cell therapy research.
AdipoGen Life Sciences is able to offer several specialized services (including antibody, protein, assay and small molecule development) to academia and the pharmaceutical/biotech industry, using the knowhow of the highly skilled and motivated staff.
For more information on our company and our product portfolio, please visit www.adipogen.com.
« Go Back