Silver sponsor and exhibitor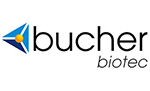 Bucher Biotec AG is a privately held Swiss distributor company representing some of the most advanced US and European manufacturers of highly innovative life science research instrumentation, associated reagents and consumables.
We are extremely proud of our distinguished customer base in the pharmaceutical, biotechnology, agricultural, food and related industries, in all life science research oriented academic institutions, in numerous governmental, clinical and environmental labs and in all of the university hospitals.
Our highly competent, well educated team is focused on understanding our customer's needs in order to be able to propose optimal solutions for the demanding research tasks, and in order to help to accelerate scientific exploration.
For more information, visit: https://www.bucher.ch/
« Go Back