Speaker
Tracy Grikscheit, Keck School of Medicine of USC, USA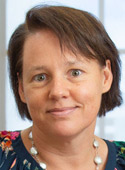 Dr. Grikscheit is a tenured Full Professor of Surgery at the University of Southern California, as well as an Attending Surgeon at Children's Hospital Los Angeles. She graduated from Harvard University with a bachelor's degree in Biochemistry and later earned her MD from the Columbia College of Physicians.
She completed her training in general surgery at Massachusetts General Hospital in Boston. During that time she worked with Joseph P. Vacanti in the Laboratory for Tissue Engineering and Organ Fabrication. Her research, centering on engineered solutions for congenital and acquired intestinal deficits has been reported in numerous peer-review journals and national and international presentations. Her work was featured on the front page of the New York Times in 2012.
Dr. Grikscheit completed her surgical training with a pediatric surgery fellowship at Seattle Children's Hospital and Regional Medical Center before joining CHLA and is a clinical attending surgeon of pediatric surgery as well as a funded primary investigator at the Saban Research Institute, continuing her work in tissue engineering and the role of organ-specific and iPS stem cells in organ regeneration and replacement.
Her chief research interests center on solving organ or tissue deficits in children with stem cells. This includes ASCENT (Advanced Stem Cell Enteric Neuropathy Therapy), a stem-cell derived therapy for children born without components of the nervous system of their intestine, which is currently in submission to FDA for pre-pre IND discussions to design the steps to proceed to clinical trial. Additionally, she has published approaches to tissue engineer components of the gastrointestinal tract and liver with replacement models that demonstrate functional tissue resulting from the growth of stem cells.
« Go Back