Organizer/ Speaker
Eileen Furlong, EMBL Heidelberg, Germany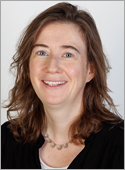 Eileen Furlong studied biochemistry at University College Dublin, Ireland, where she obtained her Ph.D. in the regulation of immediate early response genes. She then moved to developmental biology during her postdoctoral studies at Stanford University. She became a group leader at the European Laboratory for Molecular Biology (EMBL) in Heidelberg in October 2002. Since 2009, she is head of the Genome Biology Dept at EMBL, and Senior Scientist. She is an advanced ERC investigator, elected member of EMBO and the Academia Europaea, a member of the Scientific advisory board of the Curie and CRG institutes, and a member of many review boards, including Science Board of Reviewing (BoREs).
She is cofounder of the Single Cell Genomics Centre Heidelberg, an inter-institutional centre with over 22 groups developing and applying cutting edge single cell genomics
Her research spans the areas of transcription/chromatin regulation and developmental biology using the integration of genetics, genomics and computational biology. In particular, her laboratory dissects general principles by which developmental enhancers function and how robustness is imparted within developmental programs. The group's research is currently dissecting general mechanisms of transcriptional regulation, including how the cis-regulatory genome is organised within the nucleus, and how chromatin state and transcription factor occupancy influence this process. They also investigate how natural sequence variation perturbs genome regulation, leading to specific phenotypes. The work combines single-cell genomics, genetics, imaging and computational approaches to understand these processes, including the development of new genomic methods within the context of a multicellular embryo.
Website: http://furlonglab.embl.de/
« Go Back