Speaker
Johanna Joyce, UNIL/ CHUV, Switzerland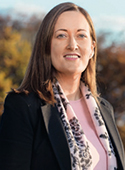 Prof. Johanna Joyce's laboratory investigates the microenvironment in which a tumour arises and the critical influence that non-cancerous immune and stromal cells can have on tumour progression and metastasis. They have uncovered regulatory signals provided by the normal tissue stroma and immune cells to the cancer cells, and determined how normal cells can be modified by the cancer cells to produce a variety of factors that enhance tumour malignancy. Her group is also actively exploring the mechanisms underlying the contribution of the tumour microenvironment to therapeutic resistance. Among their recent findings was the discovery of key molecular mechanisms driving the education of tumor-promoting macrophages, and the discovery that re-education of macrophages is a potent therapeutic strategy in gliomas. They are also investigating the interplay between cancer cells and their microenvironment in different organs over the course of metastatic progression, and recently identified a potent role for systemic inflammation, specifically obesity, in promoting breast cancer metastasis.
Prof. Joyce obtained her B.A. (Honours) in Genetics from Trinity College Dublin, Ireland in 1994. She was awarded a Ph.D. in 1999 from the University of Cambridge, UK, for her research on cancer genetics and genomic imprinting. She did her postdoctoral training studying the mechanisms of tumor angiogenesis and invasion at the University of California San Francisco, USA in Prof. Douglas Hanahan's lab. Prof. Joyce began her independent career at Memorial Sloan Kettering Cancer Center in New York in 2004, rising through the academic ranks to Full Member with tenure, and Full Professor at Cornell Medical School in 2014. She was recruited to Switzerland in 2016, where she is a Full Professor at the University of Lausanne and Full Member of the Ludwig Institute of Cancer Research.
In 2017, Prof. Joyce was elected as a Member of EMBO and a Fellow of the European Academy of Cancer Sciences. She has been recognized for her contributions to cancer research through a series of awards including the Cloetta Prize, Swiss Bridge Award, American Cancer Society Scholar Award, Rita Allen Foundation Award, Sidney Kimmel Foundation Award, and the inaugural Pandolfi Women in Cancer Research Award from Harvard Medical School, among many others.
« Go Back